Campus Kollegiet accommodates students in 3 towers connected with a common area for a kitchen and a living room. Thanks to the unique structure of the building, each room has a balcony with a view of either a beautiful green area, University facilities, or the city center of Odense.
On the ground floor, you can find an Accommodation office, laundry room, launch, bicycle parking, and elevators. As a resident of Campus Kollegiet, you have access to your room's floor, underground bicycle parking, ground floor, and terrace located on the highest floor with a magical view on each side around the building. If it sounds interesting to you, read more about our rooms offer!
Campus Kollegiet House has 35 double rooms to accommodate two people. All 11 floors have 3 double rooms, and the 12th has only two. Every single room has 33m2 including a bathroom (WC/shower), a balcony with a beautiful view at either SDU, The City of Odense or a wooded area, and a small kitchen.
The room in its furnishing contains cupboards for storage, kitchen equipment (2 stove plates, oven sink, and a small fridge), chairs, lamps, sofa, and bed. All furniture that can be found in the room is high-quality, designer products. It is possible to connect your personal TV in the room using the PSD plugin if desired. Moreover, there is a basement cage assigned to every room if you have extra equipment (sports gear, suitcases, etc.).
If you wish, you can rent a bicycle from Campus Kollegiet for DKK 500.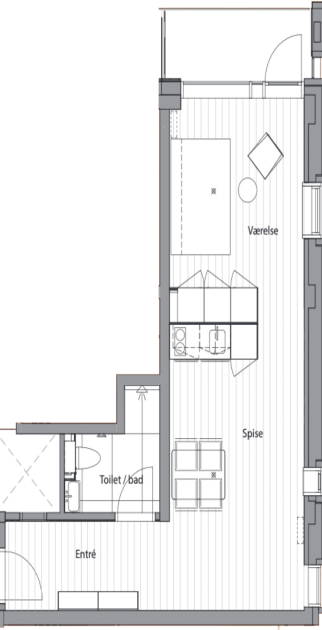 Each floor has a common area, where residents are sharing kitchens, dining tables, TV, and sofa areas. You will also find 3 bigger balconies on every floor for all residents. 
The rooftop of the building is also open for residents with 360 degrees views of the areas surrounding the Campus. 
On the ground floor and in the basement you can find the Accommodation office, laundry room and parking spots for bicycles.